Project: Community Care and Responses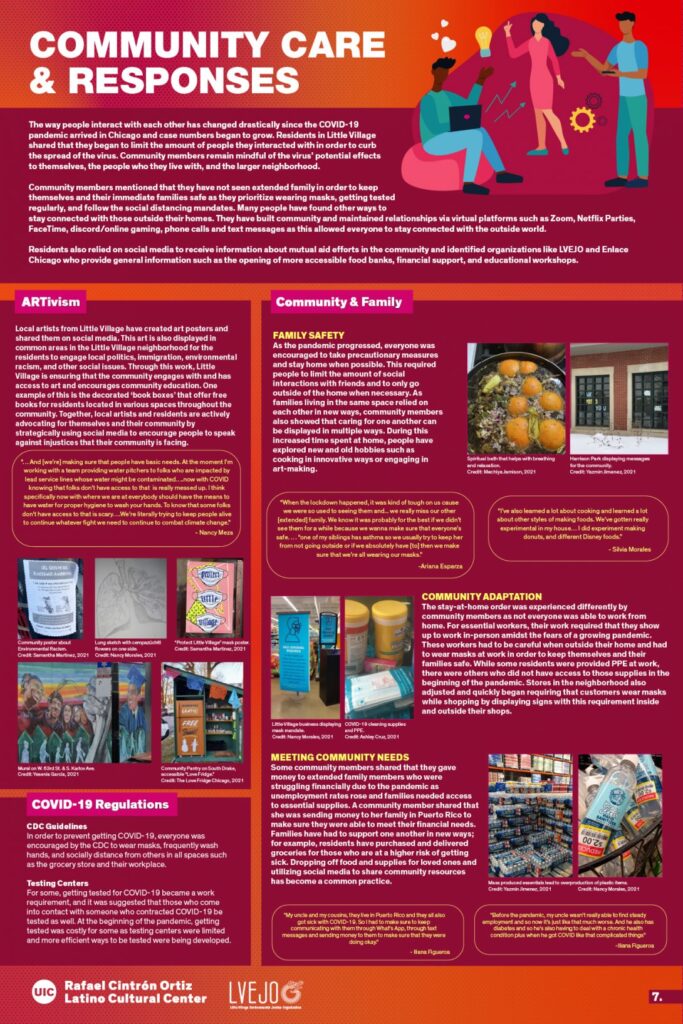 Project Overview
The Visual and Storytelling Ethnography of COVID-19 Mapping Project in Latinx Communities is a project led by the UIC Rafael Cintrón Ortiz Latino Cultural Center (LCC) in collaboration with the Little Village Environmental Justice Organization (LVEJO). This project facilitated the creation of an archive via a collection of oral histories and narratives from Latinx communities, which ultimately generated a local visual story.
Through this civic engagement, the real life experiences of Latinx community members are recorded for future reference to highlight environmental injustices faced by Latinx and other minoritized communities.
L.C.C. student interns partnered with LVEJO to answer the following research question: How is COVID-19 affecting Latinx communities in the Chicagoland area and how is this intersecting with environmental pollution in their neighborhoods?
This project will contribute in two ways:
1). Augmenting knowledge that connects the systematic burden of environmental hazards, specifically Latinx communities and the disproportional cases of COVID-19 affecting them.
2). Strengthening data that integrates first voice stories for LVEJO to use in advocating for policy changes.
LATINX FOODWAYS: STORIES AND RECIPES LINKING SOCIAL AND ENVIRONMENTAL JUSTICE
Visual and Storytelling Ethnography of COVID-19 Mapping Project in Latinx Communities
Climates of Inequality Exhibition