Los Angeles and the Inland Empire, CA
Project: Riverside's Trujillo Adobe: Created and Destroyed by Logistics

Trujillo Adobe in its current state.
Photo by Wendy Gilmartin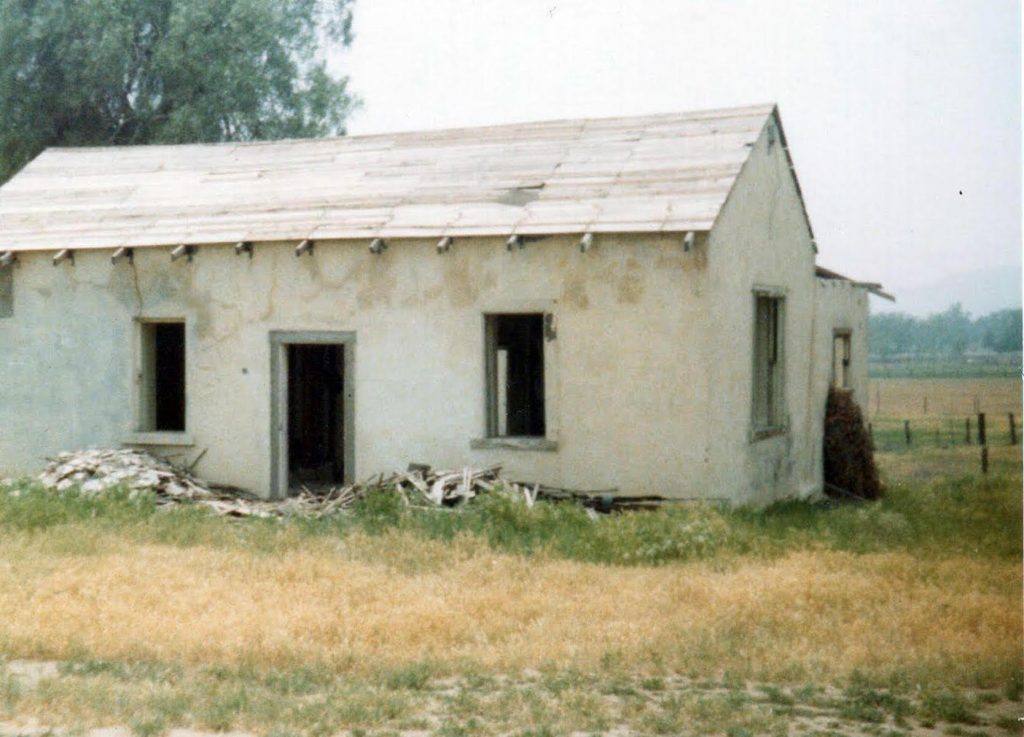 Trujillo Adobe, circa 1970.
Courtesy Riverside County Regional Park and Open-Space District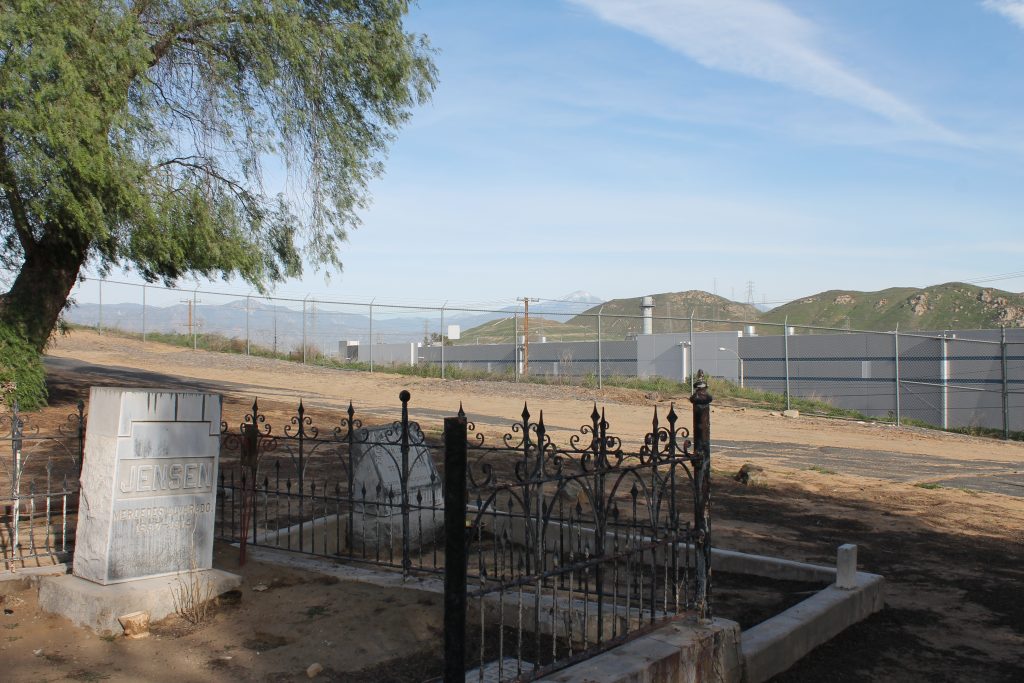 Agua Mansa Cemetery and Warehouse.
Photo by Gabriella Train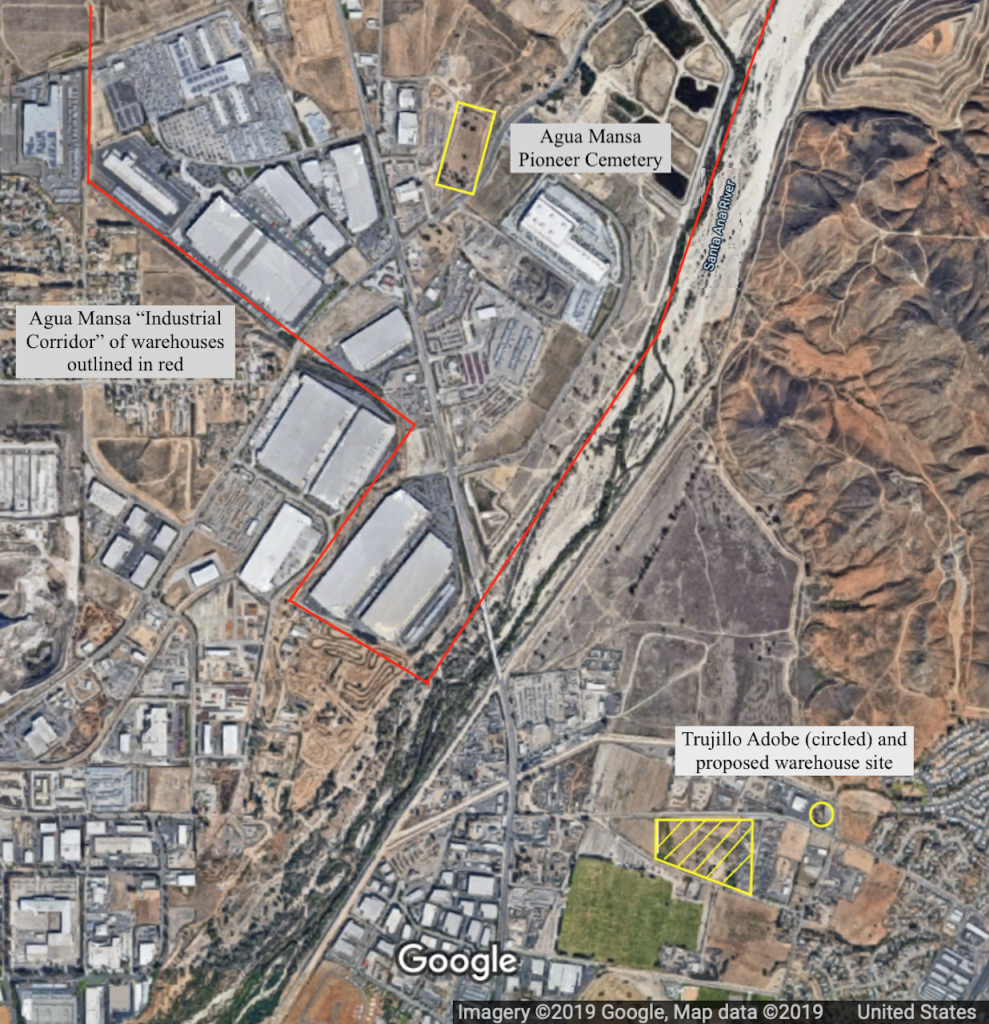 Map showing adobe, historic cemetery, and Agua Mansa Industrial Corridor.
Courtesy Google Maps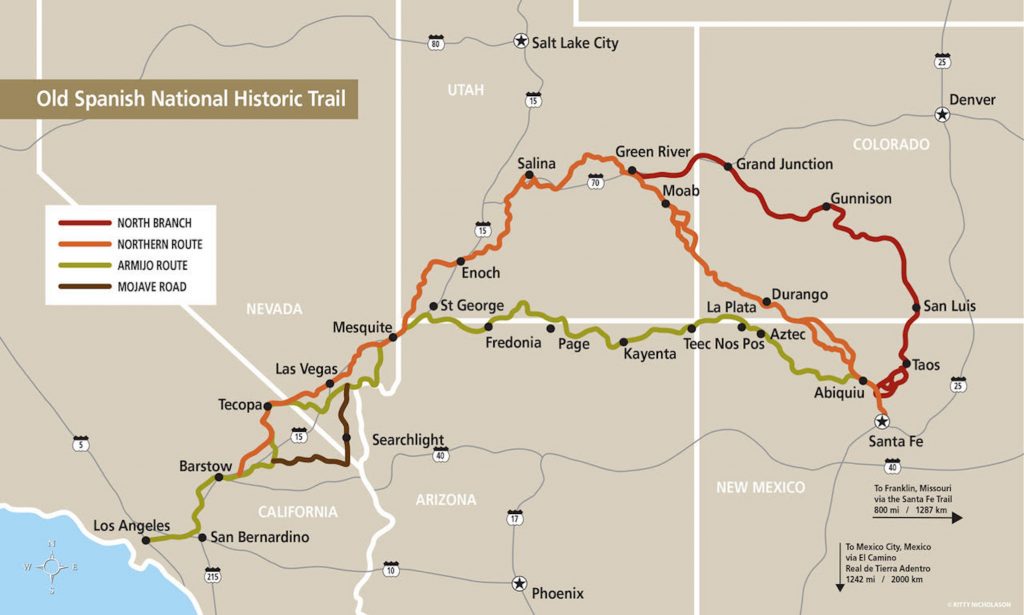 Route of Spanish Settlers from New Mexico to CA.
Map by Kitty Nicholason
Los Angeles and the Inland Empire, CA
Created by:
Gabriella Train & Alyse Yeargan
The wheels of logistics are literally grinding down Riverside's 157-year-old historic landmark. Registered by the State of California as a point of historical interest in 1968, the Trujillo Adobe is one of the oldest remaining structures in the area. (1) Built around 1862, it predates the city of Riverside's establishment. Unfortunately, weather, neglect, and the rumbling of nearby traffic have left the structure crumbling. The encroachment of warehouses in the area continue to threaten the adobe–leaving the area around it polluted and less than ideal for a historic site. As numerous community groups throughout the region have been fighting warehousing and logistics, the stories narrated by this site regarding settlement and displacement are intertwined with the growing importance of preserving the historic and cultural environment.
In the 1840s, Spanish-descended landowners in Alta California offered land grants to "Spanish-speaking settlers from Spanish, Mexican and Native American descent" to move from New Mexico and settle the areas of Rancho Jurupa and San Bernardino. (2) Lorenzo Trujillo, a genízaro–meaning he was a Native American who was taken captive and baptized by Spanish residents of Abiquiú New Mexico in his youth– became a grantholder after he and his sons were recruited by Spaniards in the Santa Ana River valley to prevent Native Americans from stealing livestock and horses on ranchos. (3) Lorenzo Trujillo and the ten families he led settled near the Santa Ana River and established the earliest non-native settlements in the area—the communities of Agua Mansa and La Placita de los Trujillos. Although a flood in 1862 washed away much of these original adobe settlements, the two communities rebuilt nearby. After the flood, Lorenzo Trujillo's sons rebuilt their home, which still stands, though its structural integrity is at risk today.
Lorenzo Trujillo and the adobe are historically significant for a number of reasons that resonate in the Inland Southern California region today. This story illuminates complex processes of settlement and colonization yet little of this multifaceted history is immediately legible at the adobe nor the nearby Agua Mansa Cemetery–Lorenzo Trujillo's final resting place. Additionally, the surviving structure is the only one of its kind in the area, but is in such a state of disrepair that it is entirely enclosed to protect it from crumbling completely. The story of the Trujillo Adobe complicates a common narrative of Western expansion as white-American fulfillment of Manifest Destiny. Instead, it shows the ways Spanish, Mexican, European, and American settlers colonized indigenous lands and utilized various trading routes and hubs in the region. In this sense, the region was an "inland port" well before today's definition of an inland distribution hub that connects coastal ports and consumers by networks of air, rail, and truck transportation. As the largest settlement between LA and New Mexico, the area around Agua Mansa was a trading post and staging ground for moving livestock and other commodities to the coast. In a sense, the historical trajectory of the inland port the Trujillos helped to create has culminated in the conditions that have led to the adobe's downfall today.
In the past few decades, the logistics industry has sunk its diesel-powered hooks into the area, bolstered by economic analysts like John Husing and politicians dreaming of a path to the middle class. (4) This area, already infamous for smog, now contends with the growth of the logistics industry. Facilitating constant flow of capital—as Lorenzo Trujillo once facilitated the flow of cattle—now also requires the constant movement of trucks and trains for transport. Despite being met with community resistance, politicians and developers encourage the expansion of logistics-related industries. (5) In Riverside, community members are fighting plans for a 308,000 square foot warehouse that would neighbor the Trujillo Adobe. The region is already threatened by rapid construction and development to facilitate logistics-related industry and this proposed warehouse–located near homes, a sports complex, and the adobe–would impose further injustice upon local communities.
We interviewed Nancy Melendez, a descendant of Lorenzo Trujillo, who is fighting the proposed warehouse development alongside family and community members. Melendez and her relatives have formed a non-profit to restore the adobe. (6) The Spanish Town Heritage Foundation— "Spanishtown" was the name later given to La Placita by Anglo-American settlers—hopes to transform the adobe into a cultural and educational site. (7) Nancy Melendez believes her family's story is an important aspect of local history that contributes to a greater understanding of Spanish and Mexican California. California's historical narrative focuses heavily on missions and Manifest Destiny and could benefit from the addition of more complex stories to produce a dynamic, nuanced account of the past. This site offers interpretative potential for recognizing the influence of multiple perspectives in the region—not just the Trujillos and later American settlers—but the indigenous groups they came from in Abiquiú and the local bands of Cahuilla, Serrano, Luiseño, Chemehuevi, Gabrielino/Tongva, and Mojave people in the Riverside area. (8) Furthermore, Trujillo family members hope this site can become an important space for recognizing and taking pride in the significance of Latinx culture in the region. In 2017, 52% of the city of Riverside's population identified as hispanic or Latino yet despite these demographics, people of color disproportionately suffer from environmental justice issues especially in terms of health. (9)  Furthermore, longer histories of exploitative and racialized labor in the region have too often been erased–an issue historic preservation and interpretive sites may attempt to rectify.
In clips from interviews we conducted, Nancy Melendez offers her views on preserving the adobe (listen HEREand HERE) while Antone Pierucci, Curator of History for Riverside County Parks, provides insight on the importance of proactive community vigilance in preservation (listen HERE). Although developers must meet requirements for protecting environmental and cultural resources by satisfying the National Environmental Policy Act and its state counterpart CEQA (California Environmental Quality Act), the processes of fulfilling these regulations has its flaws. These processes are "imperfect" as developers may hire the consultants that assess the environmental impacts of their proposed projects. In the case of the adobe, an initial report in 2016 found the proposed development presented no significant environmental issues to the surrounding area. (10) Although vibrations from truck traffic, noise and air pollution are already accelerating the adobe's degradation, this has not compelled developers to halt plans for a warehouse in the immediate area that would surely exacerbate these problems. Pierucci notes that in historic preservation, it is especially crucial for both professionals and communities to consider not just the present, but the next fifty or one hundred years of a site. While battles may seem all but lost currently, he hopes that we might find a better situation for interpreting sites for the public in the future, if we are able to hold off active destruction of our historic environment.
Despite its unsustainability, the logistics industry in this region will no doubt continue to grow in the near future. However, with the rapidly changing nature of its technologies, expansion will also eventually come to pass. Currently, the question for developers, city planners, and local residents remains what to preserve and prioritize? Does a warehouse have more cultural and economic value than a historic site? While booming logistics industries may represent short-term economic opportunity (for some), the impacts of developing open space, construction, and neglecting culturally-significant sites produce irreversible, long term consequences. In a broader sense, the carbon emissions required to sustain the transport of goods to and from inland ports will continue to threaten the health of local communities and pose larger environmental concerns in terms of fossil fuel contributions to climate change. Many local community members have a clear sense of the harm this kind of "development" and industry enacts on a daily basis and will continue to fight for the preservation of their cultural sites alongside the well-being of their community.
—————————–
1 "Listed California Historical Resources," California State Parks Office of Historic Preservation, http://ohp.parks.ca.gov/ListedResources/Detail/P75
2 Debi Howell-Ardila, "City of Riverside Latino Historic Context Statement." August 2018. Prepared by RinconConsultants, Inc., Los Angeles, CA. Rincon Consultants Project No. 18-05607. Prepared for the City of Riverside Community and Economic Development Department, Riverside, CA. https://www.riversideca.gov/historic/pdf/Latino-Context-Statement.pdf
3 Susan Straight, "Agua Mansa: Californio Roots in the Inland Empire," KCET, September 21,2011. https://www.kcet.org/socal-focus/agua-mansa-californio-roots-in-the-inland-empire.
4 Juan D. De Lara, "Warehouse Work: Path to the Middle Class or Road to Economic Insecurity?" Report for Los Angeles: USC Program for Environmental and Regional Equity, 2013, 2. https://dornsife.usc.edu/assets/sites/242/docs/WarehouseWorkerPay_web.pdf.
5 "[In the first decade of the twenty-first century] Inland Valley politicians and developers promoted an aggressive growth agenda in which their region would become central to the logistics and goods movement industry." Brinda Sarathy, "Legacies of Environmental Justice in Inland Southern California," Race, Gender & Class 20, no. 3/4 (2013): 256.
6 http://spanishtownheritagefdn.weebly.com
7 Joyce Vickery, Defending Eden (Riverside: UC Riverside and the Riverside Museum Press, 1977), 80.
8 Clifford E. Trafzer and Jeffrey A. Smith,  Native Americans of Riverside County: Images of America (Charleston: Arcadia, 2006), 7.
9 Debi Howell-Ardila, "City of Riverside Latino Historic Context Statement," 42; Penny Newman, "Inland Ports of Southern California," Report for the Center for Community Action and Environmental Justice, 13-16. http://ccaej.org/wp-content/uploads/2016/11/Inland-Ports-of-Southern-California.pdf.
10 "Center Street Commerce Building Initial Study Draft Mitigated Negative Declaration." August 2016. Prepared by MIG | Hogle-Ireland, Inc. Prepared for City of Riverside Community and Economic Development Department. https://riversideca.gov/ceqa/planning/P14-1033_1034%20-Center%20Street%20%20Commerce%20Bldg%20IS%20MND.pdf
La pandemia real: El Coronavirus y la logística en Los Ángeles y el IE
Exposición Climas de Desigualdad