Winona LaDuke on COVID-19 and the Indigenous Just Transition
Published on April 21, 2020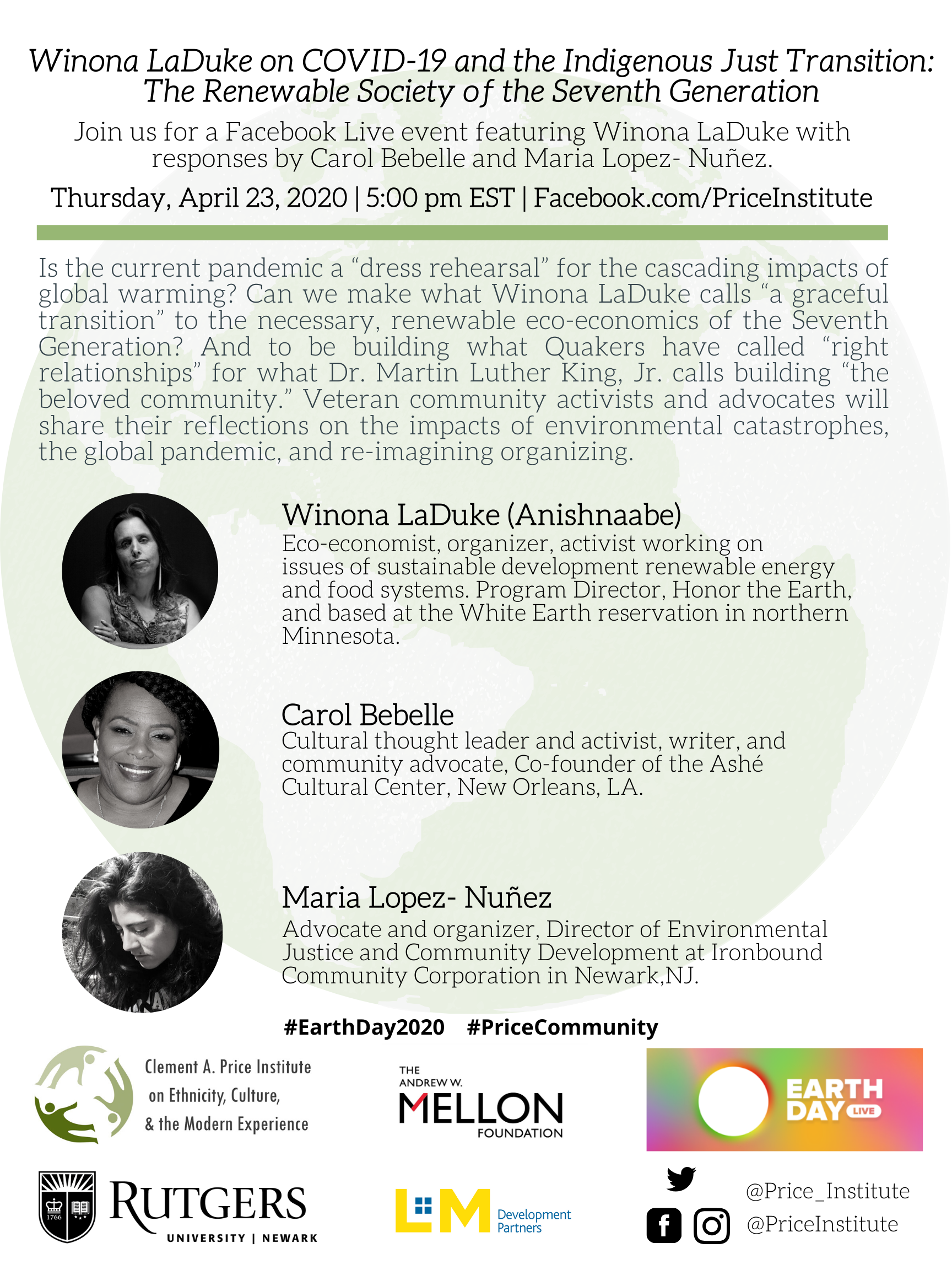 Watch the Clement A. Price Institute on Ethnicity, Culture, and the Modern Experience online Earth Day 2020 event: "Winona LaDuke on "COVID-19 and the Indigenous Just Transition: The Renewable Society of the Seventh Generation" with responses by Carol Bebelle and Maria Lopez- Nuñez.
"Is the current pandemic a "dress rehearsal" for the cascading impacts of global warming? What lessons can we learn now to respond much better? How does each disaster illustrate the growing inequities of US society?
Can we make what Winona LaDuke calls "a graceful transition" to the necessary, renewable eco-economics of the Seventh Generation? And to be building what Quakers have called "right relationships" for what Dr. Martin Luther King, Jr. calls building "the beloved community."
Joining Winona LaDuke will be veteran community activists and advocates sharing their reflections on the impacts of environmental catastrophes, the global pandemic, and re-imagining organizing.
-----
Winona LaDuke (Anishnaabe)
Eco-economist, organizer, activist working on issues of sustainable development renewable energy and food systems. Program Director, Honor the Earth, and based at the White Earth reservation in northern Minnesota.
Carol Bebelle
Cultural thought leader and activist, writer, and community advocate, Co-founder of the Ashé Cultural Center, New Orleans, LA.
Maria Lopez-Nuñez
Advocate and organizer, Director of Environmental Justice and Community Development at Ironbound Community Corporation in Newark,NJ.
-----
Original recording date: Thursday, April 23, 2020.
Location: Clement A. Price Institute on Ethnicity, Culture, and the Modern Experience Facebook page.