This video is a tour of the Briggs Avenue Community Garden, including the apiary, in Durham, North Carolina.
Voice Over: Robin Kirk Filmed by Chris Teufel. Additional Assistance: Grace Chun and Ana Ramírez
Duke University, produced with Talking Eyes Media.
The Problem
The Roots
The Solutions
Science tells us what happens to the environment and why, but not how to create change. Environmental justice is rooted in the values that connect people to the Earth and each other. For gardeners, the land provides food and beauty, joining people, the past, faith, and action.
Racial divisions impact garden clubs. For whites, clubs were social and focused on flower arranging. African Americans, many raised on farms, once avoided gardens but later saw them as sources of spirituality and connections to history. As the city changes, clubs unite in concern for their legacy as well as the future impact of climate change.
Gardeners discuss and engage their plants and places in different ways, requiring those wishing to learn from the garden to ground themselves in the languages, culture, and histories of gardeners. Gardeners reveal ways to re-engage with Durham's past and build alliances to invest in neglected and changing neighborhoods. Justice means understanding, preserving, and teaching different gardening histories.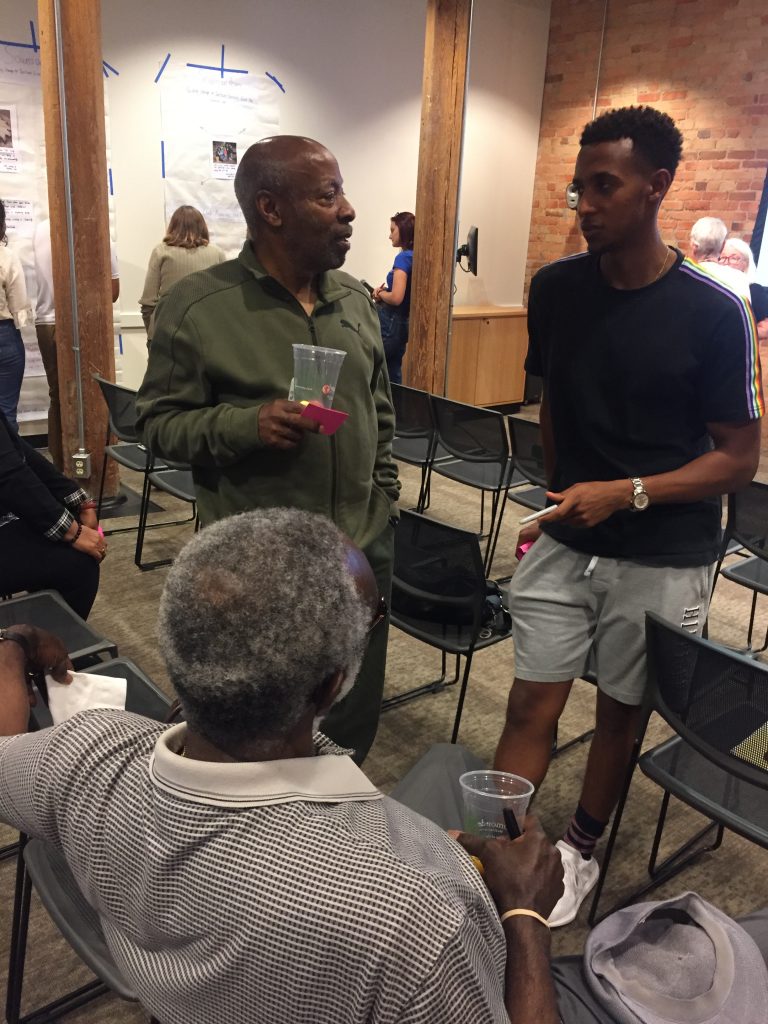 2019: Duke student Surafel Adere and club members Joe Wilson and Paul Lyons discuss gardening and memory.
Courtesy of Robin Kirk.